How will Education and Training Trends affect your Business in 2017?

1st April, 2017
The market for training and education within Cornwall is constantly evolving.  There are many reasons for this and they range from changing government policy to the hard work of local businesses.
PFA Research has taken a look at some of the data available and how changes will affect you and what you can do to help Cornwall receive the support and attention it deserves.
2017 will be characterised by an uncertain business environment with fewer organisations looking to increase their annual investment in training
It is hardly surprising that vast segments of the media have reported that businesses are approaching trading throughout 2017 in a cautious manner.  After all, the unexpected political and economic events of the last 12 months have impacted upon UK businesses in a way that few people had foreseen.
PFA Research undertakes the Quarterly Economic Survey on behalf of the Cornwall Chamber of Commerce. The most recent survey showed that 76% of Cornish businesses are experiencing increases in external pressures.  The majority of respondents attributed this to unexpected changes to inflation and exchange rates.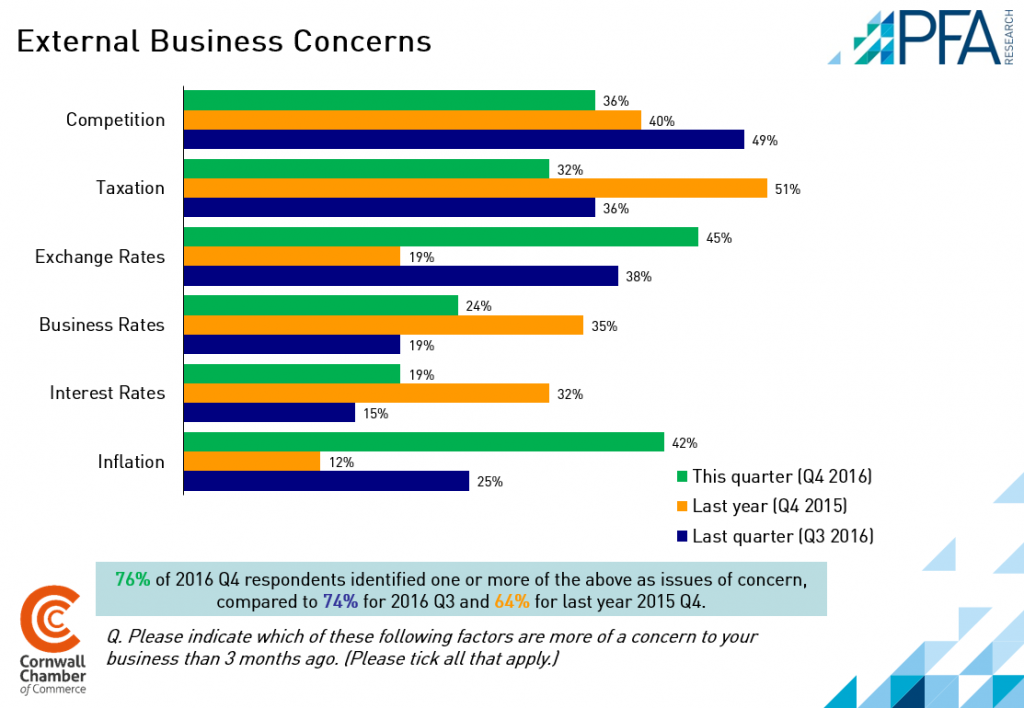 As a result, few businesses are looking to increase their annual investment in training and education.  The survey showed that only 20% of Cornish businesses plan to increase their investment in this area, compared to 29% for the same period a year before.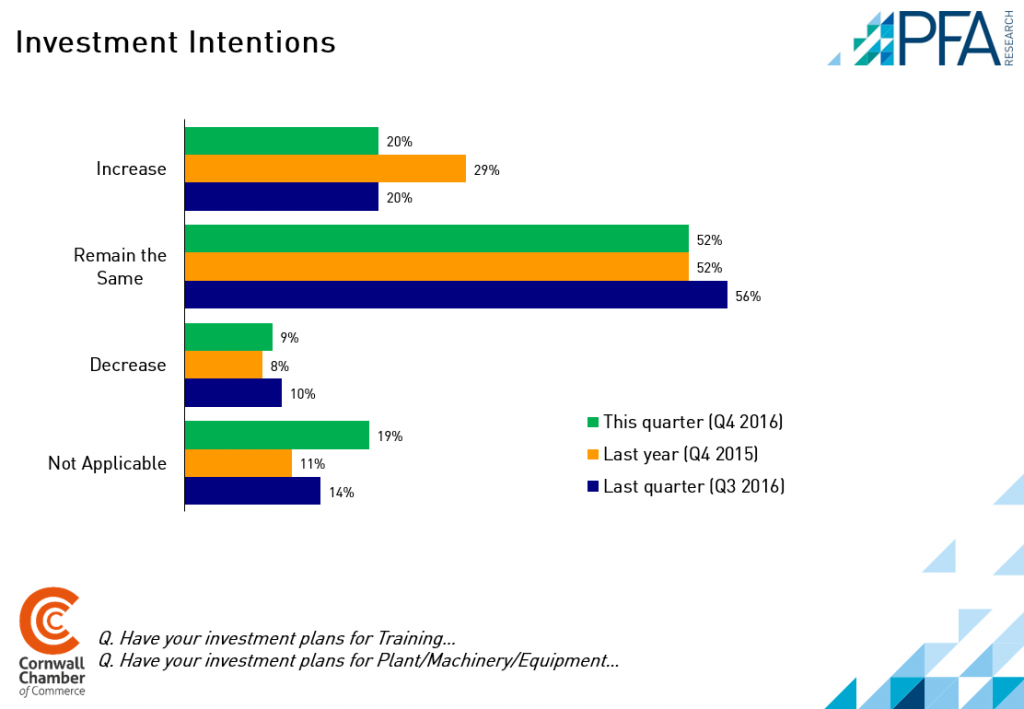 The impact of this should not be underestimated, as this reduction in investment is taking place at a time when almost 60% of Cornish businesses reported experiencing difficulties in finding qualified, experienced and well-trained staff.
These findings suggest that career oriented individuals with the money and time to invest in their own personal development may gain a head start within the marketplace.  However, it also raises the questions of whether it is realistic or fair for local employers to rely upon this strategy in the longer-term.
Training providers will continue to be faced with a tough market, which will mean that they need to innovate and offer the best possible service
The reluctance of many businesses to invest training will undoubtedly impact upon training and education providers.  These organisations are already working within a tough market and it is likely that they will need to innovate and offer the best possible service in order to succeed.
Cornwall offers several innovative schemes focused upon developing local talent in order to meet the technical expertise required by local employers.  Offerings include bespoke apprenticeships tailored to meet industry-specific needs, collaborations between major employers and specialist internships.
A qualitative study by PFA Research showed that these schemes are having an impact locally.  For instance, one local employer was asked whether he felt that his organisation had gained from involvement in a student-focused training scheme and commented, "Everyone has been amazed – some of the work done by students has caused our senior managers' jaws to drop!"
Training and education providers in Cornwall may also wish to capitalise on the fact that young people from rural coastal towns are often more reluctant than their urban counterparts to move away to attend University.  The Department of Education recently reported that only 34% of school leavers in Cornwall attend University, which compares to 58% in many other parts of the UK.  The University of Exeter and Plymouth University already factor such research into their recruitment activity within local schools.
There will be an increase in the number of individuals or businesses seeking free or low cost training
Local training and education providers have reported a significant increase in the number of individuals and businesses seeking free or low cost training in Cornwall.  Fortunately, there are a range of business-oriented training and education programmes fitting this description within the county…
Oxford Innovation has provided coaching and support to over 2000 Cornish businesses since 2014.  Their services are targeted at new and growing businesses.  Similarly, their Coaching for High Growth programme with Unlocking Potential continues to help organisations create new jobs within the county.
In addition to this, Outset Cornwall's range of training and education has helped local entrepreneurs to create 516 new businesses and 696 jobs to date.
Historically, a sizeable proportion of this funding has come from the EU.  It is not currently known whether this support will continue once the UK has left the EU.  Therefore, it is more important than ever for local businesses to share their views with policymakers, including MPs.
Businesses in Cornwall will be able to benefit from a growing number of talented people seeking apprenticeships
There has been a huge increase in the number of people undertaking an apprenticeship in recent years.  The Department for Education reported that there were almost 509 400 new apprentices from 2015 to 2016, compared to just 175 000 from 2005 to 2006.
This trend is particularly salient in Cornwall, with Truro and Penwith College reporting that applications have reached an all time high.  They experienced an increase of over 40% in the number of people seeking apprenticeships between 2015 and 2016.
It isn't just young people seeking apprenticeships either; a UK parliamentary report showed that people aged over 25 years accounted for 44% of new apprentice starts from 2015 to 2016.
This is great news for businesses in Cornwall because it means that we can benefit from talented individuals with diverse life experience bringing their expertise to a new position.  It's also great news for those of us that aren't enjoying our current career but wish to remain in Cornwall, as it suggests that there are opportunities to move into a new sector without the need to move away.
A study by Cornwall Apprenticeships showed that apprentices in Cornwall generally outperform those within the country as a whole.  Overall, 96% of apprentices within the county are in employment after completing their apprenticeship, compared to 86% nationally.  Additionally, 77% remain with the same employer, compared to 67% nationally.
Conclusion
In sum, PFA Research's findings show that training and education providers and Cornish businesses continue to work hard and remain optimistic despite ongoing challenges and uncertainty.
There are many training opportunities for business owners and professionals wishing to develop their careers within the county.  Many of these are available for little or no financial contribution from participants, which makes the investment in time a little less difficult to justify.
PFA Research has found that Cornish businesses that invest in education and training believe that they reap significant rewards over the long-term.  Therefore, it is certainly worth giving some serious consideration to investing within this area, so that Cornwall can benefit from the talents of this generation and the next.
This article was produced for and published in the March 2017 edition of Business Cornwall magazine.
Feature image by Element5 Digital on Unsplash