Location, Location, Location

8th May, 2018
According to the Longitudinal Small Business Survey 2016 commissioned by the Department for Business, Energy and Industrial Strategy (BEIS), 86% of SME employers operate from a single site. Over a quarter (27%) of SME employers have a main work premises that is also their home or the home of the business's owner (though this rises to 31% amongst micro-businesses employing under 10 people), and that appears to be growing having increased three percentage points since BEIS's 2015 survey.
Segmented by sector, 44 per cent of those in construction and the primary industries (i.e. extraction of raw materials, including fishing, farming and mining activities) worked from a domestic address, as did 40 per cent in information/communication, 34 per cent in professional/scientific, and 32 per cent in administrative services. Compared to 2015, those in construction (up eight percentage points) and professional/scientific (up seven percentage points) were more likely to have domestic work premises. Conversely, those in primary industries (down nine percentage points) were less likely to work from a domestic site in 2016.
Respondents to the BEIS survey were asked which issues, if any, represented major obstacles to the success of their business. Whilst a range of issues feature more prominently than premises, still for 15 per cent the availability/cost of suitable premises represented a major obstacle.
The Federation of Small Businesses (FSB) runs its Small Business Index on a quarterly basis. Its 2017 Q4 analysis reports that small business confidence fell into negative territory for only the second time in five years and to a level not seen since the aftermath of EU referendum. 73% report rise in the costs of doing business (with operating expenditure at the highest in five years), albeit mostly as a result of rising labour costs (reported by 40% of those experiencing increased costs). Increased costs across the board puts business sustainability (let alone growth) at risk. Unsurprisingly perhaps the report also states that the proportion of small business owners likely to sell, close or downsize their business is at an all-time record high of 14.6% (or about 1 in 7), breaking the previous record set in the previous quarter. Whilst this may represent more challenging times ahead for commercial property owners, conversely it presents opportunity for property agents and those businesses who say the availability/cost of suitable premises is an obstacle to their future success.
Although the FSB reports a decline in business confidence generally, confidence among small manufacturers improved in the fourth quarter, and FSB's analysts suggest that the industry will make a positive contribution to overall economic growth in Q4. However, there was a steep decline in confidence among construction firms.
The FSB survey results chime with findings from the Q4 2017 RICS UK Commercial Property Market Survey. It reports that its headline occupier demand gauge registered a net balance of +2% in Q4, compared with +5% previously, signaling a broadly flat trend in all-property tenant demand. At the sector level, demand for industrial space continued to rise, but was broadly unchanged for office space, whereas in the retail segment demand fell for the third consecutive quarter, with the net balance of -22% being the poorest return since 2011. Further, although changes in supply and demand have appeared more or less steady in the office sector over recent quarters, the value of landlord incentive packages (e.g. rent free periods, renovations, and earlier breakout on leasing) has now risen in six straight reports.
PFA Research first took a look at the local commercial property landscape three years ago, investigating whether the needs for commercial property in Cornwall are being met, for both now and in the future. We have revisited the questions in 2018, including a more whimsical look at what business owners say they love about their premises – as well as their gripes.
Over a quarter say premises are not fit for future needs
88% of businesses surveyed say that their current premises are suitable for their business needs now, but 29% say they are not suitable for their future needs.  Those in offices were more likely than those in industrial or retail space to say their premises are not fit for their future needs.
The main reasons given for premises not being suitable for the future include:
too small (67%)
wanting premises with capacity/option to grow (67%)
wanting their own dedicated premises (27%)
needing better transport links (27%)
wanting to be better located near customers/suppliers (7%)
Qualified commercial property consultants are important but personal networks give the inside track…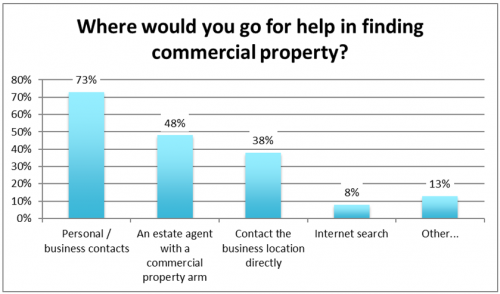 About three quarters feel they have personal or business contacts who would help them to identify suitable premises. About half (48%) say they would go to an estate agent with a commercial property arm for help, and 38% would make direct contact with the business location.
40% have actually used a commercial property agent in Cornwall.  Miller Commercial and Vickery Holman are most popular amongst respondents: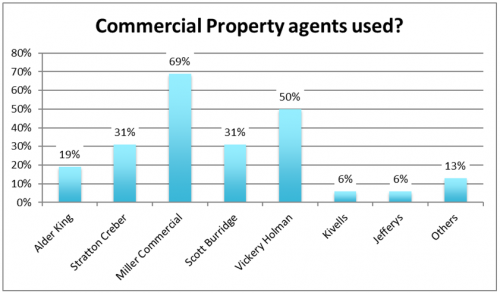 What you need to know about moving business
55% of businesses have moved premises. For a minority 23% it all went exactly to plan.  Others however experienced a range of problems, most commonly getting their phone and internet services transferred or new services installed. Problems experienced were:
Transferring telecoms / internet access (77%)
Disruption to 'business as usual' (46%)
Took much longer than expected (14%)
Cost much more than expected (18%)
Moving furniture / equipment etc. (18%)
Staff relocating / changing travel arrangements (9%)
The average cost to businesses in moving was around £13,850 (including staff time to make the change).
Location, location, location
As expected, location still comes top of the list, with 38% of business respondents saying it is the most important thing about choosing business premises.  Next most popular was the cost and size of premises (both 15%).  Good communications, i.e. broadband speed was ranked more highly (at 13%) than convenience for staff (8%), having similar businesses nearby to network with and good transport links (both at 3%).
What do people love about where they work in Cornwall?
Overwhelmingly, the thing people love most about where they work from now is the location, being near other businesses, in a town centre or with cracking sea views.  Respondents also talk about convenience, a sense of community and a good commute although "we can cycle to work!" might not appeal to everyone.
"It's creative, collaborative and convenient." – Rachel Picken, Agile PR
"Great view of the Bay!" – Ian Harris, Harris Begley Financial Planning
"It's in Cornwall, it's purpose built." – Paula Martin, Cornwall Air Ambulance
Those working from home enjoy the flexibility, comfort and their home views.
"I can work when I want and need to without having to travel to the office which means I can be much more responsive. I don't want to have to travel too far to go to work – walking would be ideal!" – Gill Pipkin, Gill Pipkin Consulting
…and what are the biggest gripes?
Infrastructure and communication issues come top of the list – mainly parking, poor bus service and lack of superfast broadband.
"Had to give up the struggle to get Superfast after 4 years and get our own leased line to enable the business to move on" – Paula Martin, Cornwall Air Ambulance
 Nowhere near an adequate amount of parking." – Anonymous (located in an serviced business centre)
 "Very few windows and natural light." – Michele Poynter, Mish
And sometimes what people love about their work place can also be the biggest gripe, something people working from home often express and which was summed up by Lerryn Clare from Jillyrox Ltd:"Flexibility to work any time" – "Having work stuff around my house!"
This article was produced for and published in the April 2018 edition of Business Cornwall magazine.
Feature image by Simon Burt for PFA Research.