European Capital of Culture Bid has Low Levels of Support amongst Local Residents

6th April, 2017
Have you heard about the recent European Capital of Culture bid?  Cornwall Council recently confirmed that they are going ahead with a controversial bid to make Truro the 2023 European Capital of Culture.
The European Union will consider who will be selected annual European Capital of Culture and subsequently play host to a series of cultural events with a strong European dimension.  Recent cities to have held this honor include Paphos in Cyprus, Aarhus in Denmark; Riga in Latvia and Marseille in France.
It seems that the bid wasn't a decision that was taken lightly at County Hall. The Cabinet Member for Economy and Culture, Julian German, reported that the council had engaged in considered and rigorous debate about whether this £500,000 bid should go ahead.
Opinion has been split on the issue.  Many people argue that winning this bid would bring economic, social and cultural benefits to Truro and the surrounding areas.  Others have voiced concerns over the financial cost of the bid; a perceived lack of private sector funding and a worry that Truro may not even be considered for the programme.
This decision really has received a great deal of media attention recently, so PFA Research decided to find out more about how the residents of Cornwall feel about the bid.
Our research findings show that only 35% of respondents support the bid.  An additional 54% of respondents said that they oppose it and the remainder said that they have no real preference either way.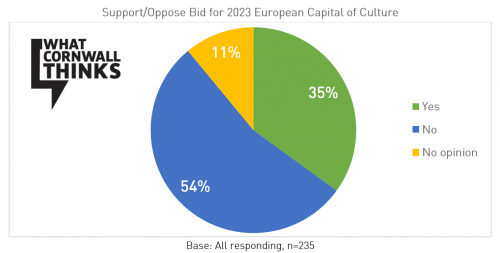 You may remember that support for the UK remaining in the EU was highest amongst younger people.  Interestingly, our research findings show that support for Truro's bid to become 2023 European Capital of Culture is also highest amongst the young.  The survey showed that 59% of younger people support the bid compared to just 28% of those aged over 55 years.  This is reflective of a pro-European stance that is more prevalent amongst younger people across the country.
Often, we hear the suggestion that the public is not made aware of what is going on in local or national government.  This can often be the case after some quite sustained awareness campaigns.  Therefore, it was unsurprising to hear that some decision-makers were concerned that local residents were not aware of the upcoming bid.  However, our findings indicate that 90% of people were aware of the bid before taking the survey.
Respondents noted that this awareness came from a combination of communications channels, including online news sources; social media sites; print newspapers; local radio news; and word-of-mouth.  Unsurprisingly, the research findings showed that print newspapers and local radio station, Radio Cornwall, were more likely to be cited by those aged over 55 years.
Regardless of whether you support the bid, we can't help but feel that it will be interesting to find out how well Truro performs and just what type of Europe oriented events will be carried out within a county that voted to leave the EU.  After all, this may have a demonstrable impact upon perceptions of European integration within the region in the future.
We'll just have to wait and see…
The PFA Research team are happy to talk more about these exciting findings!  Please do get in touch with Robert Salvoni if you have any questions or queries.
To share your views, click here to join the What Cornwall Thinks panel.