Cornwall leading the SW renewable energy market

4th September, 2015
Renewable energy in Cornwall now generates 30% of our electricity, according to the South West Renewable Energy Progress Report 2015 by Regen SW. Across the south west, the average is 14% – enough to power approximately one million homes and employ 12,800 people.
So how do people and businesses in Cornwall feel about renewable energy – is it seen as an environmental imperative, or only if it makes sense financially? PFA Research analysed the local market to see how growth in the sector is affecting businesses and our local micro-renewable suppliers.
Cornwall's renewable energy market
Cornwall and Devon continue to lead the way in renewable energy in the south west and Cornwall has overtaken Devon on total capacity for the first time since 2011/12, having seen an 81% increase over the year.
Number of projects
Electrical Capacity
Thermal Capacity
MW
% of total
MW
% of total
Solar PV
13550
486.93
81%
0
0%
Heat pumps
1413
0
0%
12.69
18%
Solar thermal
952
0
0%
2.82
4%
Biomass
584
0
0%
51.44
73%
Onshore wind
367
100.06
17%
0
0%
Hydro
27
1.76
0%
0
0%
Landfill gas
5
13.87
2%
0
0%
Sewage gas
3
0.5
0%
0.96
1%
Anaerobic digestion
2
1.5
0%
3
4%
TOTAL
16903
604.62
100%
70.91
100%
(Source: Regen SW – South West Renewable Energy Progress Report 2015)
The growth in 2014/15 was dominated by solar Photo Voltaic (PV), which has benefited from falling prices, short installation times and the availability of capital.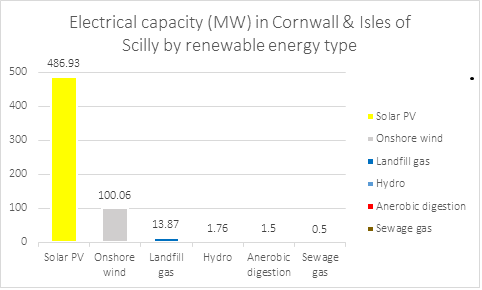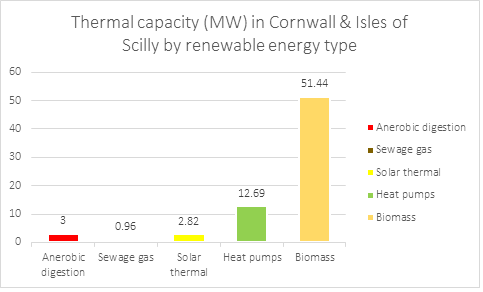 The sun still beats the wind
The popularity of solar energy is corroborated by a July/August 2015 PFA Research renewable energy survey amongst Cornish homeowners, which found that 22% of respondents had already installed Photo Voltaic (PV) solar panels and a further 7% were planning to install them, whilst 8% have solar thermal heating and another 4% were planning to install it.  In comparison, just 2% have a ground source heat pump, 2% an air source heat pump and 1% had a wind turbine, with only 2-3% citing plans to install at least one of these forms of renewables.
PV solar panels also leads micro-renewables in perceptions of adding value to property – 54% of respondents to the PFA survey say they believe this renewable energy technology adds value to their property, closely followed by ground source heat pumps (53%), solar thermal water heating (50%) and air source heat pumps (46%).  Wind turbines were believed to detract value from property (43%) more than adding to it (22%).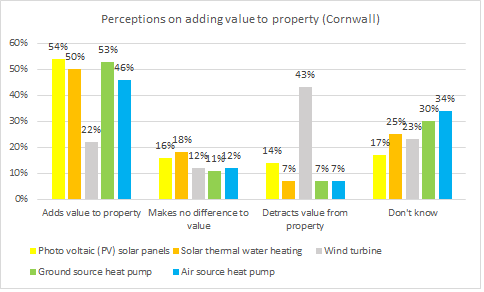 Energy efficiency
Cornwall is also leading the South West in volumes of energy efficiency measures.  Volumes of Energy Company Obligation (ECO) measures and Green Deal assessments in Cornwall top the south west, with 18 Green Deal assessments per 1,000 households (4,256 in total) and 35 ECO measures per 1,000 households (8,395 in total) in 2014-15.  In light of low take-up and concerns about industry standards, however, the Government has recently announced that there will be no further Green Deal funding and it will work with the building industry and consumer groups on a new value-for-money approach.
Money the key driver and barrier to adoption
The main reasons Cornish homeowners responding to the PFA Research survey give for installing a renewable energy system at home are 'to save money on energy' (81% of respondents), 'to be more environmentally friendly' (57%), 'to take advantage of a Government grant/initiative' (47%), 'to add value to property' (28%) and 'to support a local community energy project' (17%).
The main reasons for not installing a renewable energy system are:
Can't afford it at the moment (61%)
Lack of grants (26%)
Lack of knowledge / information (22%)
Lack of time to investigate options (8%)
Nothing – just not got around to it (9%)
Other reasons, such as building restrictions, concerns about the pay-back time being too long, or expecting to move in the near future (18%)
This follows the national picture where price is still key: 45% of people want energy from the cheapest source possible. (Source: Mintel Renewable Energy report, December 2014.)
Fragmentation of supply
A proliferation of micro-renewable suppliers were used to install the energy-saving technologies, with Cornish homeowners using everything from multinational companies to regional specialists and local one-man-band electricians – there are no clear market leaders in Cornwall.
The PFA Research findings also suggest that more education from local micro-renewable suppliers and promotion of government grants/incentives would immediately expand demand, but the nature of how micro-renewables are sold needs upheaval, as one respondent summarises:
"Difficult to find out the truth about different renewable energy sources when all sources of information seem to have a sales agenda."
Business's attitude to the environment
In Cornwall Chamber's 'A Business Plan for Cornwall', businesses were keen to point out that commerce and economic development should not happen at the expense of environment and community:
"I don't think that business should be at the heart of local growth, our environment and community should be. It should be about business sustainability, not constant growth."
"Growth is not the answer – we live on a small planet.  It seems to have escaped the minds of most people that the planet is round and is limited, therefore growth has to stop at some point.  We already consume 1.7 planets worth EVERY year, and have passed several tipping points for continuing to live on this planet.  It is time to stop growth, go for a steady state economy and focus on prosperity measured in local happiness not in our consumption of an ever shrinking resource."
PFA Research's commercial property survey conducted in March this year, found that only 25% of local businesses have dedicated premises that they own, a fact that somewhat limits the market for renewable installations. Only one of the 100 survey respondents cited an environmental consideration; 'zero carbon footprint' as the most important thing about choosing business premises.
Solar farm image: with thanks to Invest in Cornwall